There's nothing quite as nourishing to the soul as a stroll along the coast. And the south-west corner of Devon is blessed with endless variety to delight anyone who loves to wander beside the ocean. You can expect breathtaking views over the English Channel, dramatic craggy cliffs, mysterious coves and idyllic sandy beaches.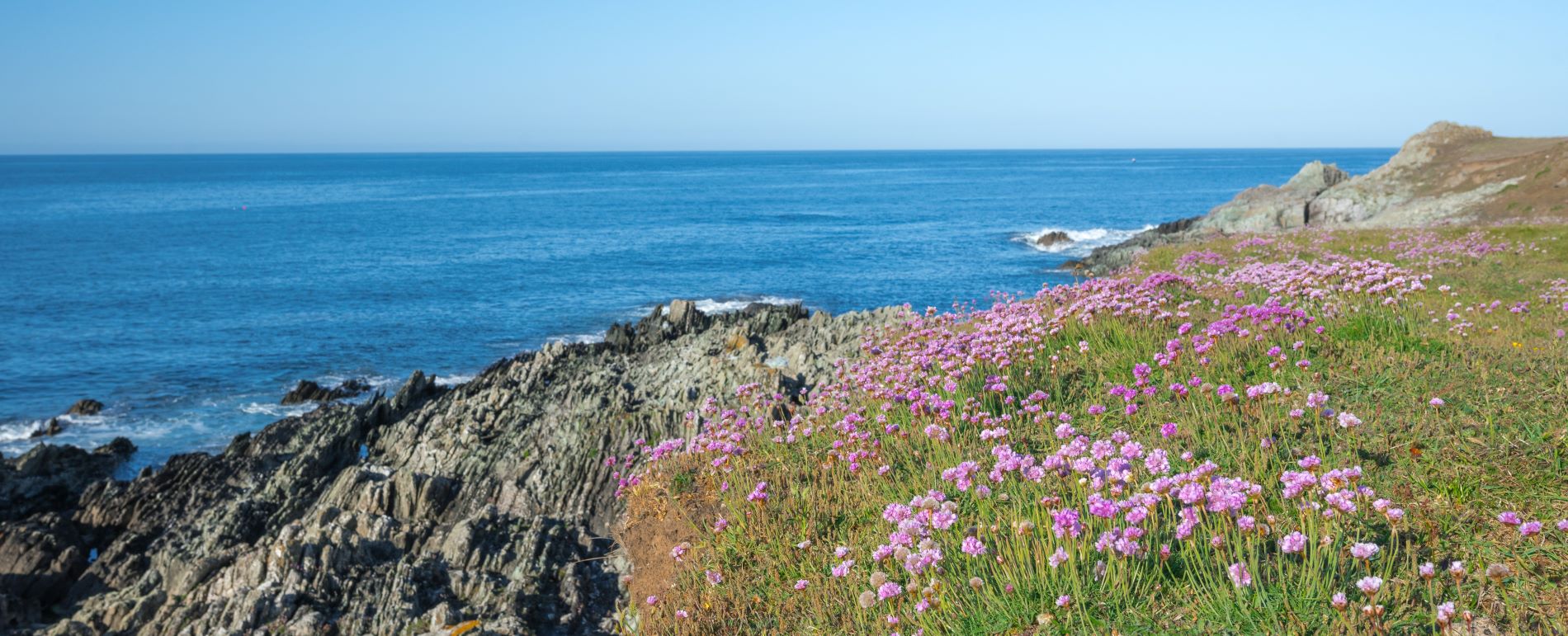 This beautiful stretch of coastline is all connected by one of the Westcountry's greatest assets – the South West Coast Path. As the UK's longest continuous National Trail, this walking route wraps around the entirety of the region.
So whichever section of the seaside you arrive at, you can be sure that there's a walk to be had. And South Devon's coast has something for everyone who sets out on foot. 
If you like to plan serious hikes, this area, with its winding and undulating landscape, offers plenty of challenge for those who don't shy away from a hill or two. And the views from the high points are a worthy reward for your labours.
Others are satisfied with a short stroll now and then while relaxing on holiday. It may be simply to take in the sights and the fresh ocean air – although planning it to coincide with a nice seaside cafe, fish and chip shop or pub is never a bad idea.
You can head to the coast virtually anywhere in South Devon and find sights bound to impress and inspire you. But as a useful starting point for the uninitiated, below we've provided some ideas for wonderful walks by the coast in south-west Devon.
Walks from the picture-perfect Newton and Noss
The adjoining villages of Newton Ferrers and Noss Mayo in South Devon are a great staging point for a lovely coastal stroll. Perhaps the best-known walk here is a spectacular four-mile-long circular route which takes you along the historic Revelstoke Drive trail and out around the Warren.
Along the way, you'll encounter beautiful ancient woodland and panoramic sea views. There are spectacular cliff formations and enchanting coves to capture the imagination. Plus, there's the chance to take a diversion to Cellar Beach and delve around its old fishing cove. Skirting back along the picturesque River Yealm, you eventually find yourself back to the village charms of Noss Mayo. This could be the ideal time to enjoy a meal or a drink at one of the fine selection of pubs in Newton and Noss.
A shorter option is to walk directly from Noss Mayo to Cellar Beach and back. Or for a longer hike, why not head east along the South West Coast Path, perhaps as far as Stoke Beach. If you'd like to check out the route options in advance, the National Trust has a useful guide to walks around Noss Mayo.
Devon Holiday Lets offer a wide selection of holiday properties to rent in Noss Mayo and Newton Ferrers, with these lovely coastal walks within easy reach. You might want to take a look at our Noss Mayo properties: Rowden House, Noss Mayo Family Home, Early Tide and Coast Barn. Or our holiday lets in neighbouring Newton Ferrers: Woongarra, The Southern Shed, Seven Stones, Akuna, Mewstone Lodge, Mariners Lodge and Eureka. Or for access to the similarly impressive coastline a little to the west in Wembury, perhaps consider Wembury Retreat.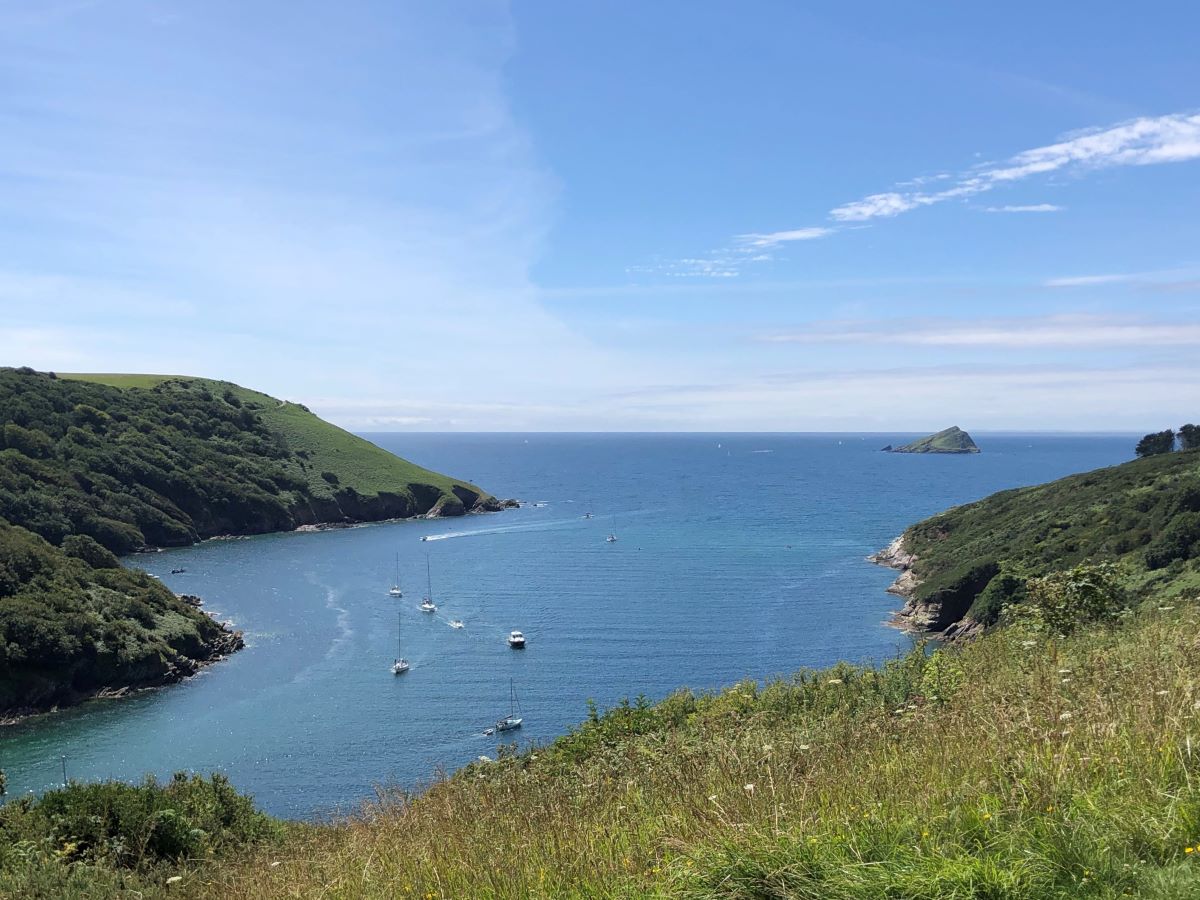 View of Great Mewstone from Wembury
Step into history along Plymouth waterfront
A different sort of coastal experience awaits you in Devon's largest city, Plymouth. It's called 'Britain's Ocean City' with good reason and is a great destination for some feature-filled seaside walking while on holiday in Devon. The sea-facing frontier in the heart of the city itself is a fine place to start.
Just off the corner of the city centre, you'll find the Barbican and Sutton Harbour. This eclectic hub is home to the National Marine Aquarium, Plymouth Gin Distillery and the historic Mayflower steps. The area's ancient cobbled streets abound with restaurants, old pubs, modern bars, quirky shops and plenty of opportunities to procure fish and chips, a Devon cream tea or an ice-cream.
From here, you can take the picturesque walk up the Hoe, tracing the imposing walls of the Royal Citadel on one side, and taking in the views opening up over the Plymouth Sound on your other side. On the Hoe, you'll discover the stunning Art Deco lido, an outdoor seawater swimming pool open to the public in summer. There's also Smeaton's Tower, Plymouth's iconic lighthouse, and the Hoe promenade, with its parks and vast open views out over the English Channel.
This section of coastline is part of the Waterfront Walkway (you can download of PDF leaflet with a map and more details here). While this stretch itself is ideal for a casual seaside stroll, it also connects with longer coastal walks in both directions. To the east, you can walk onward to Mount Batten and Jennycliff (catching a water taxi from the Barbican), with a scenic trail out to Bovisand Beach.
If, instead, you venture west, there's the historic naval grandeur of Royal William Yard, with its upmarket bars, restaurants, cafes and art galleries to tempt you for a relaxing pause. Or for a longer coastal hike, you can hop counties over into Cornwall. A short and scenic boat ride on the Cremyll Ferry takes you across to Mount Edgcumbe Country Park, where you'll find mile upon mile of serene walks through parkland and woodland, with sensational ocean views. Charming old pubs, cafes, and fish and chip shops can be found en route, offering opportunities to treat yourself.
These are just a couple of spots which make ideal starting points for walking the coastal routes of south-west Devon. With the endless variety of landscapes, heavenly beaches and the rich maritime history this corner of the county boasts, it surely has to be one of England's most beautiful and interesting places to explore on foot.